Top 06 Wholesale Fabrics Market in China
හැමෝම කැමතියි මුදල් ඉතිරි කරන්න. නමුත් චීනයෙන් තොග රෙදි ආනයනය කිරීමෙන් ඔබට විශාල මුදලක් ඉතිරි කර ගත හැකි බව ඔබ දන්නවාද? සෘජු ආනයනය ඔබට විශාල මුදලක් වැය විය හැකි අතරමැදියන්ගෙන් මිදීමට උපකාරී වේ. එපමණක් නොව, එය ඔබට ගුණාත්මක නිෂ්පාදන පමණක් ලබා ගැනීමට උපකාරී වනු ඇත.
1 Guangzhou Zhongda Fabric Market
2 Shaoxing Keqiao China International Light Textile City
3 Dongguan Humen Fabric and Accessory Markets
4 Jiaxing China Southern Textile City
5 Shanghai Light Textile Market
06 Order Wholesale Fabric Online from China
චීනයේ තොග රෙදි වෙලඳපොලවල් බොහොමයක් ඇත . එයින් අදහස් වන්නේ ඔබට බොහෝ තේරීම් ඇති බවයි. හොඳම මිල – ඔබට ගැලපෙන වර්ග – ගැලපෙන පාට හෝ මෝස්‌තර ඔබ කල්පනකරිව තෝරාගත යුතුය . ඔබගේ තෝරාගැනීමේ කාර්යය පහසු කිරීම සඳහා අපි ඉහළම තොග රෙදි වෙළඳපොල 06 එකතු කර ඇත.
( අප ඔබට නිර්දේශ කරනුයේ ඔබ අලුතින්ම ගෙන්වීමට බලාපොරොත්තු වන්නේනම් මුලින් සුළු ප්‍රමාණයක් ගෙන්වන ලෙසය . සුළු ප්‍රමාණයක් ගෙන්වීමට අප ඔබට සහය වන්නෙමු
1. Guangzhou Zhongda Fabric Market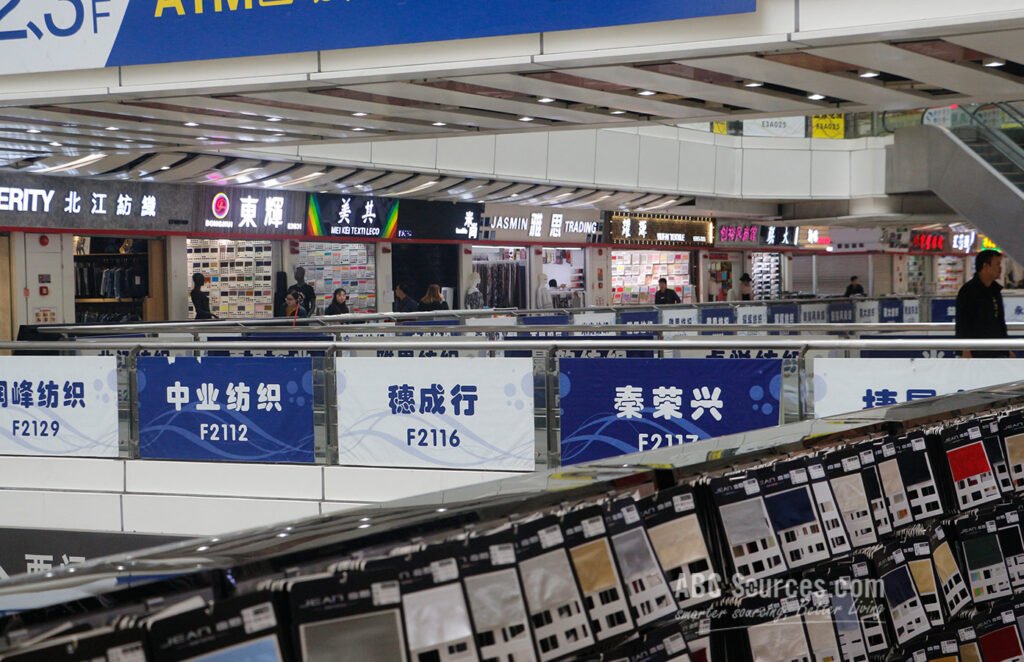 Guangzhou Zhongda Fabric Market is situated in Haizhu District Guangzhou. It is currently the largest textile wholesale center in Asia. The textile center has over 300,000 square meters of wholesale space occupied by vendor shops. Further, it has more than 4,000 textile wholesale suppliers from all parts of China. So, by choosing this Guangzhou fabric market, you will find China's textile wholesale suppliers easily. In fact, around 70 percent of all wholesale vendors in the fabric market are China fabric suppliers. Most of them will be ready to offer customized services.
You will find a wide range of textile products in this China textiles market. For example, you can choose knit, woven, jeans, or even sports fabrics. You can also choose polyester, lycra, jacquard, accessories, and trims like zippers, buttons, and lace. Still, you can choose some of the latest or trendy items such as lingerie, knitwear jersey, sportswear, and lingerie to add to your collection.
What to Expect on Every Floor
The sales building offers a very large space for vendors and shoppers. Expect hundreds of china fabric factories on each floor, each offering a wide range of products. Here is what you will find on each floor.
First Floor to the Third Floor
The three floors offer over 2000 fabric shops, offering a wide range of textile products. There are Chinese buying agents on these floors to guide clients due to the many product categories and different prices. The textile wholesaler accepts both large and small orders.
Fourth to Sixth Floors
Expect to find offices and showrooms of large China fabric manufacturers and brands on the fourth, fifth, and sixth floors. You can order customized products in this place.
Seventh Floor
The seventh floor is currently the service zone. You will find restaurants, banks, and meeting rooms. Furthermore, there are purchasing agents to guide you.
Negative One and Negative Two Floor
On the negative one floor, you will find fabric accessories and trims. On the negative two-floor, expect decoration materials such as hotfixes, padding, and laces.
2. Shaoxing Keqiao China International Light Textile City
Shaoxing Keqiao Textile Fabric Market is the primary source of fabric for Chinese customers and those from the international market. Keqiao textile market offers many market zones, each offering different types of fabrics. So, if you are planning to do your shopping in this Shaoxing textile market, you should do your homework. The North Market is the best choice for people in need of fabric products. Here is what to expect on the first floor of the North Market.
Section 1
In section 1, expect cotton fabrics, peach fabric, T/C, yarn-dyed fabric, canvas fabric, pocket lining fabric, and jeans fabric.
Section 2
In the first street of section 2, you will find lace, mesh fabrics knitted fabrics, lace, net fabrics, and chiffon fabric. In the second street, expect mesh fabrics, embroidery, and lace fabrics. On the third street, you will find embroidery fabric, rayon cotton, and poplin
Still, you can move to fourth street when shopping for burnout chiffon fabric, tricot, and knitted jacquard. When on Fifth Street, you will find printed knitted fabric, and cotton fabric. Sixth street offers satin fabric and chiffon fabric, while seven street offers fur fabrics.
Section 3
Section 3 has many streets, but the main products in this place are jeans fabrics, canvas, suede, and cotton fabrics. You will find the fabric selection work easier.
Section 4
The fabrics to expect in this section include plush velvet fabrics for toys, corduroy, flocking fabric, linen fabric, linen-look fabrics, and linen. In the fifth street of this section, you will find a wide range of shirt fabrics.
Section 5
Section 5 of the North Market offers a wide range of shirt fabrics. If you are not satisfied with what the first floor of the North Market offers, you might need to try the second floor. In the first section of the second floor, expect mesh fabrics and uniform fabrics for traffic police. After moving to the second section, you will find curtain blind fabrics, curtain accessories, and curtain poles.
The third section has a wide range of sofa fabrics and curtain accessories. Both section four and section five provide a wide range of curtain fabrics and hotel fabrics. The third floor is a good choice if you are planning to buy voile fabrics, sheer fabrics, and curtain fabrics.
3. Dongguan Humen Fabric and Accessory Markets
There are many clothing manufacturers in Humen Town, meaning that you are unlikely to miss anything that you need. Furthermore, the town provides many wholesale markets for fabrics and accessories. Dongguan Humen Fabric and Accessory Markets provide all types of materials needed in the production of clothes.
Even though the wholesale markets in Humen are smaller than those in Guangzhou, they have generous vendors. They are ready to provide samples and swatches. The markets open each day of the week between 8.30 am and 6.00 pm. Besides, the prices are comparable to those expected in Guangzhou.
The textile wholesale markets are situated on both sides of Renmin North Road. If one of your goals is to meet many textile wholesalers, you have to choose the center of this area. Visit the Fumin Cloth Market and HICC for fabrics. Xing Yu Accessories and Fortune Accessories provide quality garment accessories.
4. Jiaxing China Southern Textile City
The location of Jiaxing, China, is in the shadows of big neighbors. Nevertheless, that has not prevented it from emerging as an important economic region. The population of Jiaxing is over 4.6 million, something that helped it stand as a hotbed of China's economic activities. It will take you around 1 hour to travel to this place from Shanghai, China. The textile wholesale market borders big cities, including Huzhou and Hangzhou.
According to the owners of Jiaxing China Southern Textile City, the main fabric styles are creped Chine, elastic chiffon, and embossed chiffon. The market also provides two types of filament chiffon fabrics, which are polyester FDY Chiffon and Polyester semi-extinction.
At present, the market attracts customers from Jiangsu, Shanghai, Zhejiang, Hangzhou, and other places. The management claims that the products are of great quality and the prices are moderate. Further, the supply is tighter.
5. Shanghai Light Textile Market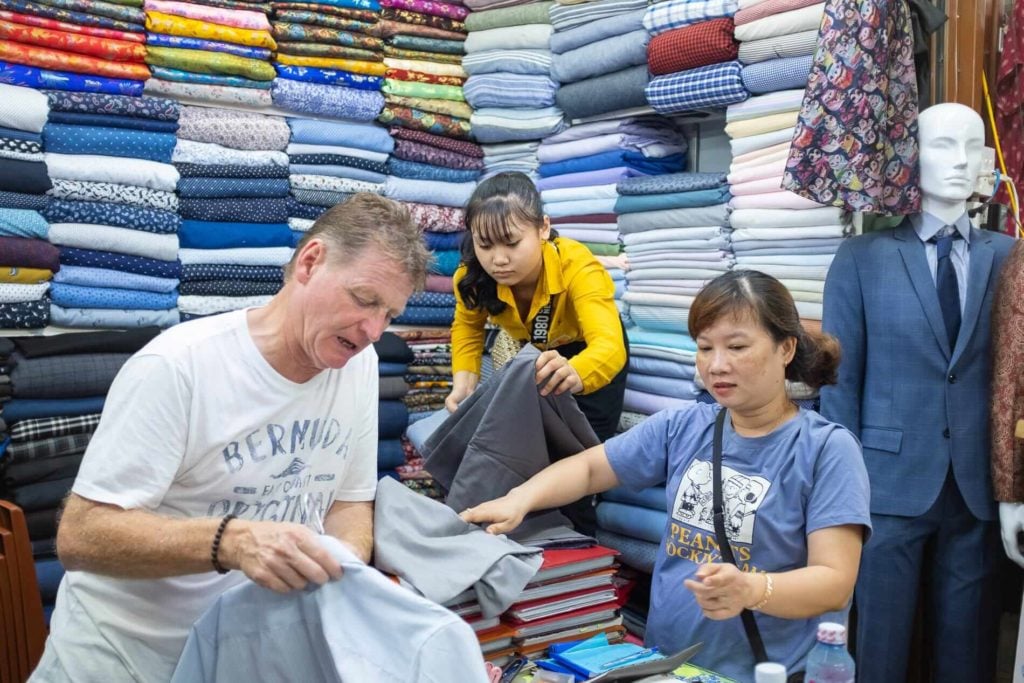 Shanghai Light Textile market is among the most vibrant textile trading hubs in the globe. Over 29,000 textile suppliers manage more than 40,000 types of products in this market. Further, the wholesale textile market receives more than 100,000 customers each day. Most importantly, its sales network covers 187 countries and regions.
The market is among the first light textile market in China. Locals who need low-cost locally made clothing and accessories have been shopping in this place. After choosing this china fabrics market as one of your shopping destinations, you will have to be patient. It has many vendors, and some of them may not provide the quality you need. Some vendors will also notify you immediately after you step out of a taxi. So, be cautious and stick to the shops and public stalls.
Order Wholesale Fabric Online from China
චීනයෙන් රෙදි මිලදී ගැනීමේදී ඔබ හොඳම රෙදි සැපයුම්කරුවන් සහ නිෂ්පාදකයින් සොයා බැලිය යුතුය. ඔබට රෙදි වර්ග -නිෂ්පාදන සමාගම් හෝ රෙදි අලවි නියෝජිතයන් හරහා අන්තර්ජාලය හරහා රෙදි ලබා ගත හැක. ඔන්ලයින් තොග අඩවි ශ්‍රී ලංකාවේ තොග රෙදි ගැනුම්කරුවන් සඳහා වඩා හොඳ මූලාශ්‍රයක් සපයයි. වේදිකා බොහෝ සැපයුම්කරුවන්ට පුළුල් පරාසයක නිෂ්පාදන සපයයි. ඔබට අවශ්‍ය වන්නේ ඔබේ අවශ්‍යතාවලට ගැලපෙන හොද සැපයුම්කරුවෙකු තෝරා ගැනීම පමණි.
Alibaba.com
Alibaba stands as one of the leading B2B eCommerce websites. The platform was the first to introduce the wholesale eCommerce concept. Further, it opened the door to the worldwide market for Chinese factories. Before Alibaba came into being, it was very hard to search for products from China online and negotiate with suppliers.
Alibaba solved most of the problems people faced when importing products from China. Today, you can communicate with many fabric suppliers in China without leaving your home. While Alibaba does not sell any products, it allows buyers and sellers to meet and conclude agreements.
Each seller has to create an account and list all products. After that, buyers can choose the supplier they want and order the quantity of wholesale fabric they need. You can try as many fabric suppliers in China as you want.
Made-in-china.com
Made in China is among the oldest Chinese wholesale websites that target international buyers. The site was launched in 1998, and its headquarters are in Jiangsu, China. The platform has adopted several policies to guarantee the safety of buyers.
First, it lists only the verified suppliers. Each of the suppliers should have a verified badge near the name. Secondly, the platform offers secured trading services. The suppliers will only get the payment after they deliver the products to you.
Furthermore, most of the sellers on this platform are large trading companies and factories. Most of the suppliers also sell their products in bulk. The delivery time ranges between 15 and 25 days.
DHgate.com
DHgate is another important platform to choose from if you want to buy fabric from China online. You will find factories, small trading companies, and medium fabric trading companies on this platform. Factories on this platform have a wide range of products, and they are a perfect choice for people looking for both retail and wholesale products. Typically, medium and small-sized trading companies buy products from the factors and other wholesale networks and sell them on this platform. Most of them prepare inventories as the demand changes, and they do not buy a lot.
The companies can buy fabric from various suppliers for resale on this platform. So, if you want to buy similar products, you will have to contact them before placing an order. Otherwise, you might end up with many products of different quality and appearance.
Globalsources.com
GlobalSources.com is a perfect choice for people looking for a wide range of wholesale fabrics online. Unlike other platforms, Globalsources.com is not only a marketplace. It is also a sourcing service provider and a trade show organization. Similar to AliExpress, Alibaba, and DHgate, this website connects fabric and other product suppliers to buyers. It also lists all trade shows and Chinese fairs and helps register others.
Unfortunately, GlobalSources.com has a complicated buyer safety system. The platform displays a Verified Manufacturer account on the profiles of sellers they have verified. Their verification system involves checking the business licenses and other important documents. Keep in mind that the platform does not offer a direct buy mechanism. You will have to contact a seller and discuss the pricing, delivery, and payment.
Contact Us
Sri Lanka Head office ( 斯里兰卡总部 )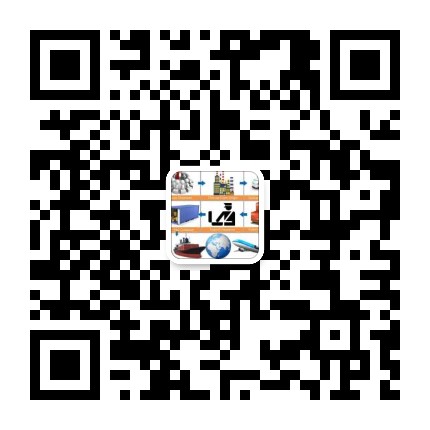 ASIAN TRADING GROUP
No 63 , Main Street ,
kegalle , Sri Lanka .
71000
Sri Lanka Warehouse ( 斯里兰卡仓库和办公室 )
ASIAN – MS WAY
Thorana Janstion
Wanawasala Road,
Paliyagoda.
Sri Lanka
Hotline : ( SEA CARGO ) +94 76 883 3348
( AIR CARGO ) +94 76 802 3348
General Enquiries +94 113682620
WhatsApp ( Sea ) +94 76 883 3348 Whatsapp ( Air ) +94 76 802 3348
Wechat : AsianCargo2001
Office +94 352231697
Fax +94 352223201
Email : asiantradings@asia.com